ABOUT US
Mission Statement:
Little River Kennels strives to produce the finest Llewellin setter pups with qualities found desirable in most hunters such as intelligence, desire to please and hunting drive matched with close handling and a calm personality. All these must be found in a healthy dog who is free of any inheritable faults.
George & Maureen Gubitose
Little River Kennels Alton NH
Located in the heart of New Hampshire's beautiful lakes region, we have been blessed to be able to raise our Llewellins in such a beautiful area that is rural yet close in proximity to CT, MA, ME, VT, RI for those who want to visit. We are a small kennel and produce on average 2 to 4 litters a year. A majority of our customers come from all over New England. We also have dogs as far away as California, Iowa, Alaska and Canada. Our Dogs and litters are registered the AMERICAN FIELD DOG STUD BOOK. (FDSB). All breeding pairs are DNA Tested and the results on file with the American Field Dog Registry. Our bloodlines consist primarily of American bloodlines. The average setter male is 45-55lbs. and the average size if the dams are 35-45 lbs. Colors are Orange/White, Black/white and Tri-Color and more recently Black/white and Chestnut.
The Llewellin Setter and Our Story:
We started out with photos, postage stamps and even VHS tapes….now we have Email, FaceBook and Instagram. While technology has grown by leaps and bounds, our commitment to bring you the highest quality pups has remained the same!
The past meets the future…
Little River Kennels has bred the Llewellin Setter, which is a rare hunting breed and strain of the English setter, since the early 1990's. The breed itself dates back to the late 1800's when it was developed over in England and brought to the United States soon thereafter. These dogs were bred specifically for the upland bird hunter who hunts primarily grouse, woodcock,pheasant and quail. (The extensive history of the Llewellin breed is easily found in an internet search) The popularity of bird hunting as a sport has remained consistent over the years and the availability of game clubs, preserves and accessibility to state forests located throughout the northeast as well as stocking of birds by local and state agencies keeps the sport thriving.
The Llewellin Setter is well known in the upland bird hunting community as a highly intelligent dog and an extraordinary hunter, but unlike most hunting breeds they are calm by nature off the field which makes them an excellent candidate for the hunter who wants a dog the whole family can love. We have established ourselves as the oldest breeder of Llewellin's in New England with a faithful following which includes families purchasing their 3rd and 4th Llewellin from us. We have worked hard to build a good reputation among customers and breeders in the northeast and beyond. We have also worked hard to keep our lines pure by acquiring dogs through a careful selection process. Breeding consistently for last 25 plus years, has enabled us to keep the lines intact. Our Phoebe produced the 8th generation of Little River pups last summer. In recent months we have started to update the kennel and also make land improvements. Our hope for the near future is to bring owners and their dogs together and introduce wild birds, which they may otherwise have limited exposure and opportunity. And as a byproduct perhaps bring a renewed love to the sport of upland bird hunting to a new generation.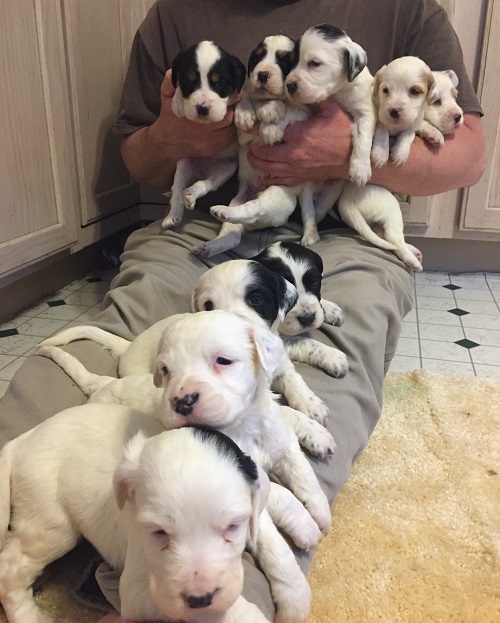 Growing up in central Connecticut and hunting on farms and game preserves as a young teen with my Dad, we hunted birds with many different hunting breeds. I was fortunate to hunt with a Llewellin at a young age during some of those early hunting adventures. It was not until I was married and had a house of my own and we came upon a Llewellin setter by circumstance that I understood why so many are in awe of this breed. It has been a privilege to be able to do this and we love what we do. We love the people we get to meet and of course we love the puppies too!
Northeast Regional Llewellin Setter Field Trials:
Little River Kennels sponsored and hosted the first ever North East Regional Llewellin Setter Gun Dog trial in the Fall of 1995 held at High Point Preserve in Alton NH. With the huge success of this event we went on to sponsor and host 1996 and 1997 trials in Alton NH as well. You may be wondering why we never held any more trials after this, well, we started a family and life got busy. Someday we hope to do it again.