Welcome!
Little River Kennels NH
Llewellin Setters
"Breeding Classic New England Grouse Dogs"

Since 1992
We strive to produce high quality, intelligent, sweet, beautiful Llewellin Setters!
We have learned over the years that the unmistakable Llewellin Setter personality and traits are what set these dogs apart from other bird dog breeds. They thrive in a family atmosphere and are all business in the field with natural instincts like no other. We have also learned that our children play a vital role in raising our pups from birth to bring you the most loving, well adjusted, easy going, future hunter and wonderful family addition!
"Lady is my first bird dog and I trained her myself. She has been so easy to train and has been an amazing hunting partner. George even got her started on retrieving and she delivers birds to hand. My next dog will definitely be from Little River Kennels." Tyler - VA
"She's been pretty much the easiest dog I've ever had. Great in the House, great in the woods. Minimal training for anything I've tried to get her to do." Bob D. - ME
"It's so much fun to hunt with my own dog - in this I'm as much a neophyte as she, and we're learning together - but I know she'll be a fantastic bird dog for years to come. And goes without saying but she's a lovely and friendly dog at home. Thanks again and regards," Steve ~ owner of Holly
READ MORE TESTIMONIALS HERE!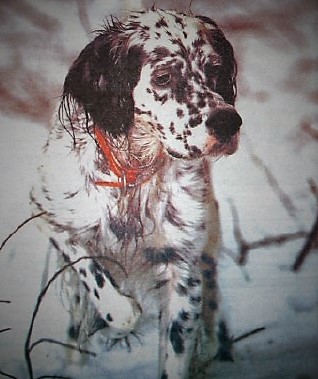 "Every bird hunter dreams of owning the perfect dog. A dog whose abilities in the field are so natural that little or no training is required. A dog whose love for hunting is equaled only by it's devotion to it's master. A dog so described is said to be rare. Many uplanders search there whole lives for such a dog. I was fortunate to own such a dog early in my life; that dog was a Llewellin Setter"
George Gubitose